Für die deutsche Version klicken Sie hier
 20th of June 2017 
Hotel Belvoir, Rüschlikon, Switzerland
Sponsored by:

2 October 2017 – This past June I spent three glorious days in Zurich, my focus the Digital Investigations Conference (DIC), an event held annually for the last five years, where this year I was the keynote speaker.
NOTE: a huge hat tip to Nico Van der Beken who recommended me as keynote speaker to Arina and whom I have known and worked with across Europe for 10+ years. Nico has unparalleled experience in the e-discovery/forensics field: working with lawyers, IT people and suppliers – negotiating and delivering cost-effective solutions and project management. Just getting things done. 
And a very special note to the entire staff at the Hotel Belvoir. A simply superb venue for a conference … and the perfect venue for just a few days relaxation and as a jump-off point to see Zurich.  Please see my notes/comments at the end of this post. 
The DIC is truly a one-of-a-kind event. It is Switzerland's only such conference that provides a platform for computer forensic experts, vendors, partners and sponsors working in digital investigations and e-Discovery. It features keynotes and offers workshops to increase skills and to learn more about soft- and hardware solutions in the market.
The event focus hits everybody: academics, advisories, corporates, government, law enforcement, law firms, and military organizations and is run and organized by the brainiacs behind Arina AG, the very well-known and dominant reseller for globally leading products in the areas of digital forensics, mobile forensics, e-discovery, cybersecurity, data duplication systems and network forensics. They are the leader in the DACH region (Austria, Germany and Switzerland).
Before I get to the event itself and my video interviews with the various vendors, here is my chat with Markus Mosca (founder/CEO) and Roman Locher (CTO) of Arina. They talk about the founding of the company, the array of services and technology they provide, and the purpose of the Digital Investigations Conference:
MY KEYNOTE ADDRESS
For most of us in the information management trade, artificial intelligence is a nifty tool. We see the benefit of artificial intelligence in deep learning patterns, methodology, and strategy.
In my keynote I tried to give the audience a view "from 10,000 feet up", an overview of the computational process of machine learning, statistics, and database systems. Oh, and a tribute to Oskar Schlemmer who in 1915 displayed his prophetic dancing robots … and predicted our "serene mechanical simulacra that will be so typical of what will become our automated period".
NOTE: at the end of my keynote video I have a link to my blog post where you can find my suggested sources to help you get an understanding of artificial intelligence. If you want to go directly to that page click here.
The following is the "abridged" version of my keynote, the one hour presentation reduced to 30 minutes of what I thought were my key points. It includes all of the slides/graphics I used in the presentation:
THE CONFERENCE
In any event of this magnitude, it is difficult to report on and comment on everything. You can get a feel of the wide range of topics by reading the conference agenda (click here). So herein a few highlights based on several sessions I attended:
THE VENDORS/SPONSORS: VIDEO INTERVIEWS
Time constraints prevented us from doing video interviews with all of the vendors and sponsors of the event (some were speaking but not exhibiting) so we felt lucky we were able to capture all the vendors in the exhibit hall.  Here are those interviews:
CELLEBRITE
We had a chat with Alexander Schuetterle of Cellebrite. Herein, Alex talks about the company's advanced analysis tools for law enforcement professionals:
For more information about Cellebrite click the following link: www.cellebrite.com 
TEELTECHNOLOGIES
We had a chat with Maggie Gaffney of TEELtechnologies. Maggie summarises the mobile device forensics solutions, services, and training the company offers for local, state, and federal law.
For more information about TEELtechnologies click the following link: www.teeltech.com
MSAB
In our chat with Gerhard Gunst of MSAB, Gerhard talks about the MSAB Ecosystem of tools for law enforcement which provide a significant increase in investigation efficiency.
For more information about MSAB click on the following link: www.msab.com
MAGNET FORENSICS
Magnet Forensics provides a complete digital forensics investigation platform allowing examiners to acquire, analyze, and share evidence all within one tool. Peter Warnke points out that the tool, Magnet AXIOM 1.1, is now being used by digital forensics professionals seeking evidence that other tools cannot find, to verify data, to do in-depth examinations of data using multiple views and intelligent technology to focus on results and link relevant data, and to integrate images acquired with other forensics tools – all into a single case file for examination. Please note that the company uses technology from their partners at Passware (see Passware interview below):
For more about Magnet Forensics click on the following link: www.magnetforensics.com
PASSWARE
Dimitry Sumin, founder and CEO of Passware, talks about "Passware Kit Forensic", a complete electronic evidence discovery solution that reports all password-protected items on a computer and decrypts them.
For more about Passware click on the following link: www.passware.com
OXYGEN FORENSICS
Oxygen Forensics was founded in 2000 as a PC-to-Mobile Communication software company. This experience has allowed their team of mobile device experts to become unmatched in understanding mobile device communication protocols. Oxygen Forensic products have been successfully used in more than 100 countries across the globe. Tatiana Pankova of Oxygen Forensics provides an overview of their products:
For more about Oxygen Forensics click on the following link: www.oxygen-forensic.com/en/
ELCOMSOFT
Elcomsoft password recovery solutions allow gaining access to password-protected, locked and encrypted onformation created in a variety of applications. Their unique technologies and deep knowledge in information security implemented in our products allow investigators recovering the most complex passwords faster or even instantly. A chat with Olga Koksharova of Elcomsoft about their products:
For more about Elcomsoft click on the following link: www.elcomsoft.com
BLACKBAG TECHNOLOGIES
BlackBag Technologies develops innovative forensic acquisition, triage, and analysis software for Windows, Android, iPhone/iPad, and Mac OS X devices. James Buckland talks about the challenges in forensic acquisition and how Black Bag Technologies can help:
For more about BlackBag Technologies click on the following link:  www.blackbagtech.com
NUIX
Most mobile forensic tools only allow analysis and investigation of mobile devices in isolation of the rest of the digital evidence, which makes it hard to draw links between evidence sources, and results in individual investigations per device type, rather than a holistic view of the case. Nick Pollard explains how Nuix technology can making the holistic view happen:
For more about Nuix click on the following link: www.nuix.com
THE CONFERENCE VENUE: THE HOTEL BELVOIR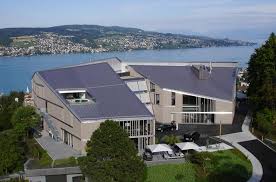 I attend 35-45 events/conferences every year and venues are always very important to me. The Hotel Belvoir is ranked as a 4 star "superior hotel" and it certainly is in every way. The hotel has 60 elegantly furnished guest rooms, all with fantastic views over Lake Zurich. And views off to the Alps.  The food is absolutely exquisite and the restaurant venues, by themselves, fabulous: the full Belvoir restaurant, the sun terrace, the bar/lounge, all with views of the lake.
The meeting rooms have true "state of art technology" and can accommodate groups up to 300 people.  On their web site the hotel boasts an all-encompassing service — "Everything from a single source" — and that is exactly what they execute. The conference team literally works with you from the idea, across their organization, and all the way to the implementation.
Service was superb, from check-in to special requests (I had printing and special courier services I needed) to assistance with my slide presentation (they have an excellent IT staff).
Added pluses: the Belvoir Wellness, Gym & Beauty centre … and Belvoir bowling. Really. The bowling is a brilliant side event.
If you are considering a Zurich location for a seminar, a meeting, or any event or celebration … or just a weekend "chill out" … I cannot think of a better location. And, no.  This is not a paid endorsement.  I do not do that sort of thing 🙂  I sincerely love the place.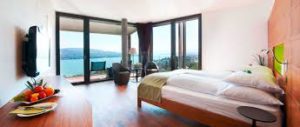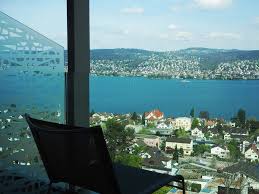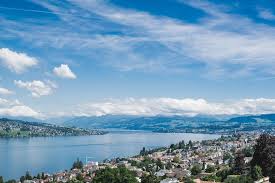 The view from the sun terrace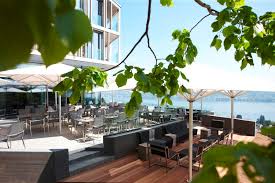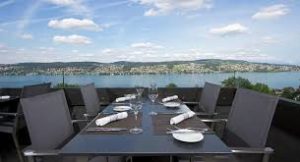 Various shots of the hotel