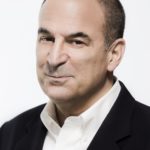 Me? In brief, I am a digital media/telecom attorney, journalist, writer, and media producer. Oh, and a neuroscience student and an artificial intelligence student in two MOOC programs, the first at Cambridge University in the UK and the second at ETH in Zurich.
Yes, a bit of a freelance technology tart … juggling information technology, journalism, law, and digital publishing.
I am the founder and CEO of GB MEDIA plus a collection of companies under the banner of The Project Counsel Group.  I write and consult on a variety of technology topics, mostly intellectual property law and digital media with some litigation support thrown in.  I work mainly from my Brussels BELGIUM office but spend as much time as I can in Serifos GREECE.
I am also the founder of a charitable organization in memory of my mother, called The Vellios Foundation. We accept no donations.  I fund it from my own resources.
I read a lot. But I can't read it all. Damn! And I love the sea and spend as much time in and near it as I can.
Some of the boring bits.  I have over 30 years of experience in intellectual property law and digital media in the U.S. and Europe. I have done such things as coordinate the commercialization of intellectual property portfolio for an international investment group, advise clients on matters involving digital media and intellectual property rights, manage an EU transfer pricing investigation, and manage responses to a DG COMP investigation involving intellectual property and competition policy.
And currently I still assist law firms and corporate legal departments with the legal, administrative and related aspects of document review, legal staffing, electronic discovery, and litigation support for projects across Europe.
I received my Juris Doctorate from the John Marshall School of Law (Illinois, U.S.)   I also hold a dual Bachelor of Arts degrees from Hartwick College (New York, U.S.) in Economics and Political Science, plus a Licence en langues et civilizations étrangères (first degree) from the Universitè de Paris Sorbonne. After university I received my training as a currency and commodities trader at Credit Suisse and learned about …. algorithms!!
I muck around on social media via Facebook, LinkedIn, Twitter and Tumblr, and I have my own Youtube site. You will find links to all of these sites at the bottom of the right-hand column.
In this blog I post my own thoughts and reflections (as well as links to the writings of other folks I like) about art, culture, language, media, politics, science, and travel. You can subscribe to these musing via a link below my Twitter feed in the right-hand column.
Ideas, complaints, suggestions? Email me at gbufithis@gbmediastudios.com.
Where I always am (in my mind, at least) : Serifos, Greece