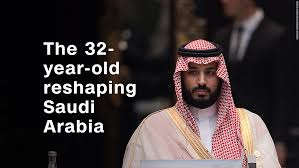 Crown Prince Mohammed bin Salman
12 February 2018 (Tel Aviv, Israel) – Earlier this month it was revealed that Saudi Arabia's state-owned oil giant and Google parent Alphabet Inc. (two of the world's biggest companies) were in talks about jointly building a large technology hub inside the kingdom. As part of the potential joint venture, Alphabet would help Saudi Arabian Oil Co., known as Aramco, build data centers around Saudi Arabia, the people said. It isn't clear specifically whose data the centers would house or who would control them. And even Amazon wants to get in on the act (see below).
I am in Tel Aviv as part of the kick-off of an e-discovery project, both Jerusalem and Tel Aviv having been quite busy the last few years on both the data collection front and the discovery review front.
On these trips I also like to spend time on non e-discovery matters and today I had the opportunity to spend some time with friends and contacts at Tel Aviv University.
I was informed that "very senior executives at Aramco and Alphabet" have been in talks for months on the potential joint venture. The talks have included Alphabet Chief Executive Larry Page and have been encouraged by Crown Prince Mohammed bin Salman (pictured above) who is enamored with Silicon Valley and wants to bring more tech expertise to the kingdom. Prince Mohammed has been leading the kingdom's plan to take Aramco public. Still, there are many details to work out in the Alphabet deal, and it is unclear when—or whether—such a deal will be finalized.
Also not to be missed is the booming market for renewable energy that has emerged in Saudi Arabia. The country plans to invest around $7 billion by the end of the year in seven solar plants and a wind farm.
This is all part of a continuing political, social, and cultural transformation led by the 32-year-old Crown Prince Mohammed bin Salman. The Crown Prince, with his Vision 2030 initiative, is aiming to reduce the country's dependence on oil and build a more innovative, entrepreneurial and inclusive economy.
To achieve these ambitious goals, the Crown Prince has been aggressive in consolidating power. As many of you know having followed events on this side of the world, last year he detained dozens of perceived policy opponents, including princes, clerics and some of the richest men in the world. Prince Alwaleed bin Talal, well-known for his sizable investments in Lyft and Twitter, just recently — at the end of January — secured his own release from prison (though in his case prison was a Ritz Carlton hotel).
MbS (his unofficial moniker) has also pushed back on the power of the conservative religious establishment and many of the laws it has imposed on Saudi society. The country's religious police has been stripped of its ability to make arrests. A 35-year ban on commercial films was lifted in December, to the glee of Saudi cinephiles. In June, women will gain the right to drive, an important civil rights victory that is also expected to have immediate economic benefits as women can now more easily enter the workforce. Uber has already recruited its first women drivers in the country.
As for the country's economic transformation, moving to renewable energy will have a few immediate benefits. Solar technology advances make it a cheaper alternative to burning oil. Extreme heat creates a big dependence on air conditioning, and the country's power plants go through some 680,000 barrels of oil a day to meet peak energy demand in the summer months.
Reducing its domestic oil use will free the country to export more. How will demand keep up with that supply is another question. Saudi Arabia is hardly the only country, after all, embracing renewable energy.
And so, with its eye steadfast on the future, Saudi Arabia is pushing to diversify its economy. The potential deal with Alphabet to develop a tech hub in the country, as well as with Amazon to build data centers, are fascinating.
NOTE: Amazon sources say it is close to finalizing a $1 billion deal to build three data centers in Saudi Arabia. The deal is expected to be announced during a trip to the U.S. by MbS early this year.
And an interesting point according to an Israeli intel officer: most data for the Middle East is piped from Europe, slowing surfing to the most-trafficked websites, which are accessed via long-distance undersea cables. Local data servers — which would store content but also cached memory of personal-navigation data or social-media content — would speed up access and help the country be more competitive in the digital economy. But Alphabet and other digital giants have been reluctant to set up physical data centers in the Middle East, Africa and most of Asia because of data-protection concerns — unlike in the U.S., police generally don't need a court order to access private data. One cyber source noted that  a lack of protection for online data users in Saudi Arabia and other Gulf countries remains an obstacle for the establishment of mass storage by U.S. internet giants and, more broadly, the region's competitiveness in the internet economy. Obviously data servers located geographically close to customers means the speed of access is much higher.
Lastly, Aramco, the state owned oil company, may be taken public. Its market cap is projected to be around $1.5 trillion, twice that of Apple's — currently the public company with the highest market cap world-wide. A sale of even a small percentage of its stock would provide additional cash to fuel investment in new industries.
A move away from oil dependence could have profound effects on Saudi society. It's the profits from state-owned oil that have funded the extravagant lifestyle of the royal family, but also healthcare for the country's citizens. Should other industries fail to make up for lost oil revenue, what then?
2018 will provide more insight into the impact of a transforming Saudi Arabia, and whether the Crown Prince's ambitions point to improved prospects for the country — or instability ahead.