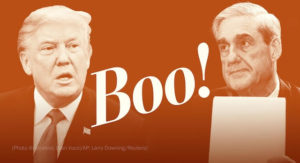 31 October 2017 – Just a few short points on the Meuller arrests yesterday. I have only scanned the court documents although my CTO has loaded up the court filings into IMTRANSLATOR on my iPad (along with a few media attorney reviews of the filings) so I can at least "listen" to the court filings while travelling.
I worked as a prosecutor for two years after law school, and again a few years ago when I was part of a pro bono criminal law research team for my law school. As I noted on Twitter yesterday, when I heard that Trump staffer George Papadopoulos had pleaded guilty a few months ago to lying to the FBI and was described as a "proactive cooperator" my prosecutor's office instinct told me "that means he wore a wire". Oh, what fun to come.
But Meuller's approach is textbook. This is the way you kick off a big case. He couldn't have sent a message any clearer if he'd rented a revolving neon sign in the middle of Times Square. And the message isn't just about Manafort. It's a message to the next five guys they talk to. And the message is: "We are coming, and we are not playing, and we are not bluffing".
The double-barreled court filings ratchet up the pressure on everyone under scrutiny in the investigation because they show that a former Trump campaign adviser (Papadopoulos) began cooperating with the FBI three months ago.
And ignore the Trump pundits "this is it? squawking and the alleged slow pace.  Meuller is moving fast. White-collar cases often begin by "flipping'' bit players far down the chain of command. As I noted in a blog post years ago, the ­prosecution team that sent WorldCom chief executive Bernie Ebbers to prison for decades began with charges against a low-level accountant. Prosecutors then worked their way up the corporate ladder, flipping senior managers until they had a case against Ebbers.
Peter Zeidenberg, a former federal prosecutor with expertise in national security who was been quoted a lot in the media yesterday, called the Papadopoulos plea "a big deal'' because it "goes much closer to the issue of collusion.'' The fact that he's been cooperating for three months is important, too, because that raises the issue of who else is cooperating that we don't know about? That's what people in the White House need to be worried about.
Granted. While the Papadopoulos court filings offer more links between Trump associates and Russian figures, they do not define the extent to which senior campaign officials supported that effort. It's not a direct connection as yet. There are additional bread crumbs that are missing leading to the White House.
And the indictment even seems to go out of its way to kneecap a standard defense argument in such cases – that the defendant got bad advice from his accountant. The indictment charges that Manafort wrote specifically to his accountant that he did not have foreign bank accounts. Although what is really striking about the indictment is the number of people who worked for Manafort – accountants, lawyers and others – who provided key evidence against him.