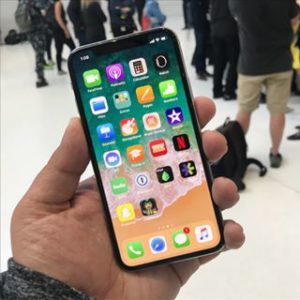 Eric De Grasse holds the iPhone X
The lack of an "on/off" button is huge. It enables an entirely new, fluid, intuitive experience.  
12 September 2017 (Serifos, Greece) – Although I am still slumbering on my summer holiday, I have been working a bit.  A wee bit. I watched the live feed of the iPhone X roll out a few hours ago, and Tweeted extensively, and Eric De Grasse (my CTO) was at the event to take advantage of the "hands on" presentation after the formal introduction.
There was a lot of info at the start on improvements to Apple TV and Apple Watch. I will skip that in this post.
And obviously there is tsunami of analysis rolling out across the Web on the new iPhone 8/8+ and the iPhone X.  So just some of my quick, random comments in no real order based on my view of the presentation and the videos I watched on the Apple web site.
The critical stuff:
iPhoneX 64-to-256 GB will run $999 +. You can order on October 27th and it will ship November 3rd.
iPhone 8: 64GB and 256GB starting at $699
iPhone 8 Plus: 64GB and 256GB starting at $799
iPhone 8 and iPhone 8 Plus: Glass front and back, aluminum banded. Silver, space gray, new gold.
Jony Ive did his now traditional keynote role as "disembodied descriptive voice".  I am pretty sure the eventual evolution of Siri will be Jony's disembodied voice 🙂
Apple's new wireless charging:

The mat supports multi-charging of iPhone X, Series 3, and AirPods (with a new wireless charging case).
Supports Bluetooth 5.0, and wireless charging.
For those of you who saw my Digital Investigations keynote in Zurich in June (or watched the post-event video), I explained how all this wireless technology charging works – and we have a big thanks to the Walt Disney Studios Lab in Zurich for the initial development.

The A11 Bionic chipset not only provides much better performance but it adds 2 hours longer battery life (the entire audience was clapping when that was announced).
Face ID for a passcode … incredible.

Unlock is super fast. Pick it up, look, you are in the phone.
Apple used neural networks and ML to create Face ID. It "learns" you. iPhone X has: A11 Bionic neural engine. Dual-core design, 600 billion operations per second, real-time processing.
Took over a billion images of faces to create Face ID. Built A11 Bionic neural engine to process face recognition.
Touch ID is granular to 1/50,000 people. Face ID is granular to 1/1,000,000 (vs. random person unlock.)
Face ID can't be spoofed with photographs, high-quality masks (made by Hollywood FX and makeup artists).
Glance, it detects your face, even in the dark (flood illuminator). Dot projector sends 30k invisible dots. Push through neural nets.
Hardware built for ML algorithms.
What works: glasses, hats, scarves, beards, hijab, scarves, etc.

Reminder: one of the features coming to IOS 11 prevents cops from syncing your iPhone data on a computer unless you enter your AID password.
The cameras
I am a bit of a semi-pro photographer and my media team works with some pretty state-of-the-art video and photography equipment so my first focus was on those aspects of the Apple camera improvements on the 8/8+ and the X roll-out:
The A11 Bionic is in the 8/8+ and the X but the version for the X senses and optimizes photos before they're even taken. The demo was outstanding.
The A11 Bionic is super-fast, great for games, MUCH better for cameras.
New: Portrait Lighting. In beta, ships with iPhone 8 Plus. Dual cameras, ISP, create depth map, ML creates landmarks, changes lighting.
Augmented reality: Deep hardware/software integration. Calibrated for AR, low light 60 fps, new gyro/accel, accurate motion tracking.
Cameras calibrated for AR in factory. New gyros and accelerometers; ARKit tuned to iPhone 8 hardware.
Zero shutter lag to freeze motion. Incredible low-light images even with "telephoto" lens.
iPhone X true depth can take portrait mode and portrait lighting selfies.
iPhone X: f/1.8 and f2.4, larger, faster, deeper. *Dual* optical image stabilization. Better low-light. 2x bright Quad LED flash.
iPhone X has dual optical image stabilization for both wide and tele. Low-light zoom.
True depth camera system: Infrared cam, flood illuminator, dot projector, speaker, front camera, prox sensor.
Super Retina Display supports HDR (Dolby Vision and HDR10), 3D Touch and True Tone.
Slo mo in 1080p 240 fps. Double previous frame rate.
40K, 60fps, divides all frames into 2 million tiles, analyzes every second, identifies, grass, water, movement, optimizes compression.
Lighting effects: Natural, Studio, Contour, Stage, Stage Mono.
iPhone 8 Plus: F/1.8 and F/2.8 aperture, OIS, new sensors. Super-low noise.
iPhone 8 camera: New sensor, new color filter, optical image stabilization. Lower noise, better colors.
The iPhone X
Wow, wow, wow.  So much to say. Just these points:
The explanatory iPhone X video is actually quite good. It is on the Apple web site.  Start there.
"It is all screen. It is beautiful to look at. It is incredible to hold."
No "on/off" button. How do you wake up your iPhone X? Raise to wake or tap on the display.
Ok, showing someone unlocking their iPhone X in the pool on the explainer was, admittedly, pretty cool.
Your iPhone now recognizes you — even in the dark.
From the Fact Sheet:

5.8 diagonal inches. 2436×1125 resolution. 458PPI
Display is edge-to-edge, top to bottom, each corner. Glass front and back. Surgical stainless steel band.

The power of A11 Bionic I explained (somewhat) above.
The iPhone's success paradox
I have written about this before and I will go into more depth in a "long read" in a few weeks.
Not every successful product is "the best" product in its category. The point of Ikea furniture isn't to be the greatest, most high-end offering in the realm of houseware. The point is to meet a practical consumer need at an attractive price. There are Ferraris and Porsches in the marketplace, too, but making "the best" car isn't necessarily a more successful business strategy than making a good enough car at a reasonable price.
But the iPhone is different. From the day it was first introduced, it was positioned in the market as the best phone in the world. But it's also become the best-selling phone in the world. And like any marquee smartphone, it needs to be updated and upgraded every year. As Matthew Yglesias (technology editor for Vox) noted over the weekend:
This gives Apple a big problem. Year after year, any new ideas they want to bring to the iPhone need to be capable of being manufacturing on a massive scale in a relatively compressed timeline. That's hard to do and, in practice, it means that certain things simply can't be done. And that means risking the iPhone's quality leadership.
In concrete terms, low-power OLED screens are spreading in the Android world and they provide real user benefits in terms of increased battery life and the ability to take the display edge-to-edge. But nobody has yet figured out how to manufacture really high-quality OLED screens at the volume Apple needs to meet the consumer demand for iPhones.
The solution is the iPhone X. It's essentially a Lexus to the iPhone's Toyota – pairing the OLED screen with a few other high-end touches while containing substantially the same guts and commanding a premium price. Most people probably won't want to shell out a thousand bucks or more for a smartphone, but that's fine because Apple couldn't make this phone in high volume anyway. The outer frontiers of quality require scarcity, and high prices turn scarcity into profits.