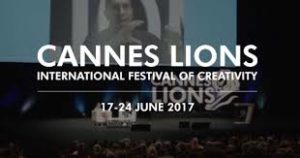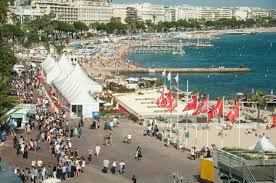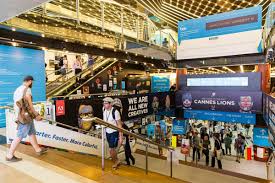 (with a heartfelt thanks to staffers Catarina Conti and Silvia Di Prospero)
In Part 1: an overview of the event and the changes in the media/advertising industry, with some cool videos … and some very funky video goggles
In Part 2: a focus on "narrative science for lawyers", the industry's pro bono work for the legal industry, lots of AI, and how those ad-and-query matching algorithms stick advertisers on sites spewing hate. Plus some lessons for LegalTech.
29 June 2017 – Last week was an eventful week.  I gave the keynote address at the Digital Investigations Conference in Zurich, and ended the week at the Cannes Lions Festival of Creativity – an advertising conference as famous for its rosé-soaked yacht parties as its agenda-setting discussions and deals. This year, there was a widespread feeling that the industry has been slow to adapt to the turbulent global economy, buffeted by the advances of social media in areas normally reserved for the mainstream advertising players. Later on in this post I will discuss what the execs from agencies, brands, and platforms took back from the Riviera this year … aside from suntans and (smaller) bags of swag … and how many of their concerns are similar to those in the legal industry.
NOTE:  we attend as "accredited press" which was arranged by a long-time advertising client who also subsidizes  much of our expense but (wisely) not our food/bar bill. That client also arranges for us to attend several of the VIP events. So as Carl Victor, a member of my local Cannes support team, demonstrates we wear an abnormal amount of badges:
Oh, and vets of the Cannes Lions may have noticed that the festival's bags this year no longer come packed with heaps of flyers, mags, and swag. According to Cannes Lions spokesperson Mark St. Andrew, this was an eco-minded decision on the part of the organizers.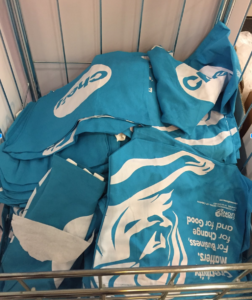 As the festival has grown and expanded, so has the number of panels and presentations — leading to tons of "collateral deposits" that delegates would end up dumping immediately after they picked up their bag anyway. Also, the Festival has made good use of modern technology with screens aplenty throughout the Palais, surrounding area, beach, etc. to remind people of the goings on. Also, the Cannes Lions "Networking App" was sponsored by PHD and uses artificial intelligence to help you meet the right people efficiently and easily. Brilliant app. PHD also had a great seminar on creating a immersive experience through VR which featured guest speaker Kevin Kelly, the tech commentator and co-founder of Wired magazine. Plus a bunch of "360 view" short films that can be viewed via the YouTube app and Google Cardboard for a fully immersive experience. Quite cool.
So, on to the conference and some notes on changes to the industry:
IT AIN'T CHEAP
Cannes Lions is a global event for those working in the creative communications, advertising and related fields. It is considered the largest gathering of worldwide advertising professionals, designers, digital innovators and marketers. The Lion awards are also the most coveted and well respected in the entire advertising and creative communications industry. It runs seven-days, incorporating the awarding of the Lions in multiple categories, and is held every June.
It is actually one of the smallest events our team attends/covers (LegalTech is the smallest). This year Cannes Lions had 16,500 registered delegates from 110 countries. There was content from over 500 speakers and more than 37,000 pieces of work to see.
The event was inspired by the Cannes Film Festival, staged in Cannes since the late 1940s, when a group of cinema screen advertising contractors belonging to the Screen Advertising World Association (SAWA) felt the makers of advertising films should be similarly recognised. It launched in Venice, Italy, in September 1954, with 187 film entries from 14 countries. The lion of the Piazza San Marco in Venice was the inspiration for the Lion trophy. The event then alternated between Venice and Cannes before settling in the latter in 1984. Scores of new categories have been created for awards in recent years to reflect creative effectiveness.
It attracts everybody. This year the folks who make ads for baby food, incontinence aids and cans of beans get to rub shoulders with the likes of Halle Berry, Halsey, Ron Howard, Helen Mirren, Ian McKellen, Gwyneth Paltrow, Brad Pitt,  and Meryl Streep.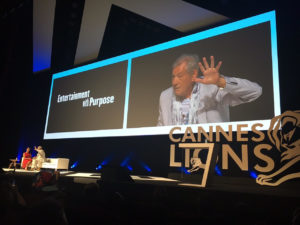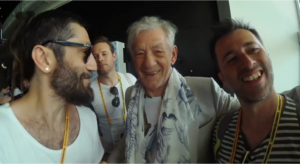 And the growing power of the new players in the game are evidenced by the attendee list (I attend as media so I often have access to "an" attendee list but not the "master" attendee list). Apple, usually quiet at Cannes, sent at least two advertising executives. They were vice president of marketing Tor Myhren, who had a speaker slot, and advertising director Clay Mills. Amazon is another quiet but increasingly feared presence in the ad industry. The list showed global general manager for Amazon advertising and media, Claudine Cheever, attending. Cheever was a jury member for the Cannes Lions awards. Also, Seth Dallaire, vice president of global ad sales at Amazon Media Group, was there, though he DID NOT appear on the list. Somebody spotted him. Then there are the executives who promote Amazon as a consumer brand: executive creative director Michael Boychuk and EU director of advertising Simon Morris. Snap CEO Evan Spiegel was on the list, along with more than 40 Snap staffers.
But this year the burnish came off those Gold Lions considerably, as the ad execs who pay for the rosé-soaked festivities complained loudly … and with their checkbooks:
– Publicis, the third-largest ad agency network, said it would not attend the Cannes Lions at all next year and instead invest the money it would have spent on award entries and hotel rooms on a new AI product (more on that AI in Part 2)
– WPP sent only 500 staffers to Cannes this year, down from 1,000 last year. Yes, the big agencies send enormous support staff to this event. Some spend close to $20 million (€17.8 million) for this event. WPP CEO Martin Sorrell noted numerous people were complaining they felt "ripped off" by Cannes.
– The Daily Mail, which last year had two gigantic party yachts at the docks … and a party deck built alongside them, all at an estimated cost of up to $8 million (€ 7.2 million) … didn't do anything this year. As the Financial Times has reported, revenue at the Daily Mail was down 12% in the first half of fiscal 2017, so someone inside the company appears to have concluded that whatever deals they signed on their yachts last year were not good enough to require rebooking those boats this year.
– And the stock of Ascential, the holding company that owns the Cannes Lions, took a precipitous dip right in the middle of the festival as it became clear that one of the main themes emerging from it was not the celebration of creativity but the mere cost of being there.
Now, to be fair, some pretty big deals are signed at this event. And depending on where you are in the world, to come all the way to the south of France can be a big commitment. The Festival has tried to make it accessible to as many people as possible. Passes start at €1,595 ($1,800) for two days, and attendees under 30 can save up to 45%. People ARE NOT charged to speak on stage, unlike many other events. And not all hotels are expensive. In fact Airbnb seems to dominate the market. Over 5,000 of the company's 2.5 million listings are in Cannes, up from only 2,000 at this time two years ago. Many listings specifically market their proximity to the main venue, the Palais des Festivals, as a selling point. My team was there all week … I was only there 3 days/nights … and we paid $900 a night for a 3-bedroom flat through Airbnb which was about 10 blocks from the Palais.
But that said, you see the problem: It's €1,595 for one person … for just two days! That's expensive. To understand Cannes' problems, it's worth knowing just how expensive it is for a company to be there: it can cost €1 million ($1.1 million) before an ad agency even gets on a plane. WPP sent 500 people this year, but even if that number were reduced to 200, we calculated last year that they might need passes that cost €1,500 each, for a total of €300,000. Then a global agency might enter 1,500 prize categories at €500 per entry – that equals €750,000.
So already, the bill is over €1 million before a single flight is booked or hotel room reserved.
NOTE: a quick back-of-the-envelope calculation reveals the Festival earns $30 million+ just from the Lions prize category entry fees. The Festival brings in a total revenue of about $75 million. 
Once you're at Cannes, things don't get cheaper. The local hotels and restaurants know they have a captive audience. It costs €9 just to have a cup of tea inside the Hotel Barriere Majestic on the Croisette, one of the main hotels for the festival. At the Carlton down the street, it's €32 for a chicken sandwich (I had one). It can be difficult to escape dinner from the cheaper nearby restaurants for less than €40 per head. And employees expense all that back to agencies.
My staffer Silvia did some digging and a few other eye popping expenses:
Accommodations: $26,786 for the seventh-floor penthouse at the Majestic per night
Charters: $61,384, the starting weekly rental for the Quid Pro Quo yacht, which holds 10 guests in five cabins
Cost of booking a private helicopter from Nice to Cannes via Heli Air Monaco: $558
Booze: Veuve Clicquot Vintage Rose magnum $391 (InterContinental Carlton bar)
Booze: $27 average price of a cocktail at the Carlton terrace
And based on a quick canvass of a number of the marketing staffers in attendance, it costs agencies roughly a minimum of $8,000 to $10,000 to send one person to Cannes, and obviously the price tag can grow way beyond that depending on food and entertainment spending.
Some think it might do well to move the Lions out of Cannes, to Amsterdam, Berlin, London, New York, etc. But that's unlikely to happen. The Festival benefits enormously from their association with the Cannes Film Festival. Gwyneth Paltrow and Meryl Streep and many other movie stars and directors attend both, and that glamour rubs off on the Lions. What is really going on here is that the large agencies — WPP and Publicis — are likely attempting to force Cannes to lower its prices in consideration of the bulk buying they do on entry fees and the like. I will explain more below on what is driving this cost reconsideration.
SO WHAT'S IT ALL ABOUT, ALFIE?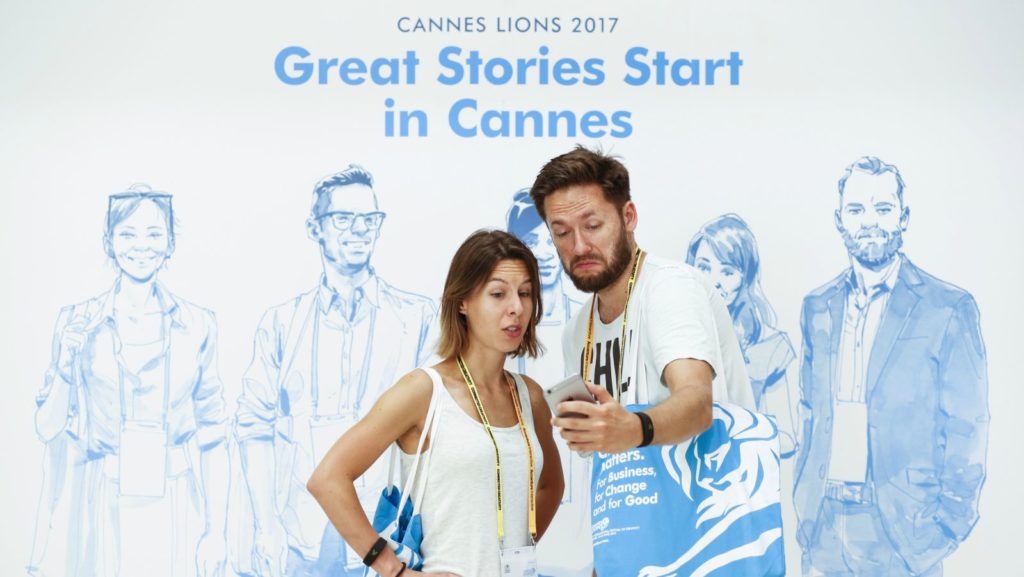 The biggie: the industry has benefited from the growth in online publicity but it is starting to feel the impact of disruption. Sound familiar? One attendee I spoke with said: "even the children's merry-go-round is feeling the competition from the leading tech companies".
What he meant was that the prize for the most audacious statement went to messaging platform Snapchat — fresh from its $20bn IPO in March, by the way– which had erected a giant yellow Ferris wheel next to the Palais des Festivals, offering holidaymakers and delegates a free ride. It simply dominated the event's locale.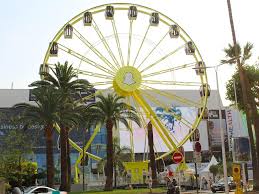 And it gets worse. Quoting Corrinne D'Harcour (who has been running Le Grand Carrousel de Cannes, the children's attraction next door for the past 13 years) in the local Cannes press: "This has been a catastrophe this week, a high regular tourism week in Cannes besides the Festival. Not only a free ride but they are handing out free lollipops to everybody with a Snapchat-branded logo. I cannot compete!!"
But that Snapchat-branded Ferris wheel … towering over the entrance of the nearby Palais, the main venue for the event … symbolized to many corporate marketers at Cannes the underlying issue: "do we need these media agencies like WPP and Publicis when we have the power of Facebook and Instagram (now with business accounts) and Youtube with a complete backend benefit of advanced analytics … and better results?"
I was reminded of the conversations I have had with many corporate counsel who say given that technology is getting ever more powerful, easier to use, more accessible and requiring less human capital well, why shouldn't e-discovery come back in-house … joining the conflict in legal between old-school conventions and modern tech, as it has been in artificial intelligence legal research.
Meanwhile over on the beach … In days gone by, the waterfront along the Plage de la Croisette, the stretch of golden beach made famous by decades of cinematic glamour, used to be dominated by the once all-powerful media agencies, such as WPP and Publicis. Yet in a sign of the industry's shifting sands, a host of Silicon Valley names ruled the roost during the Cannes Lions festival. Facebook, Twitter, Spotify, YouTube, and others such as Pinterest set up hipster beach clubs where executives, journalists and marketers could talk business or just sip lattes while watching beach volleyball.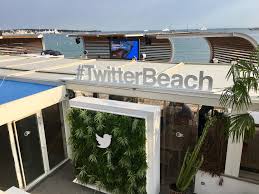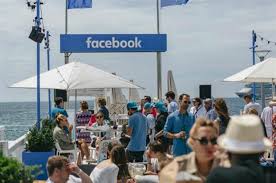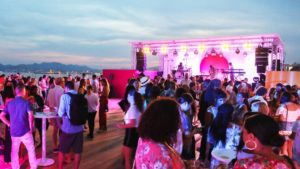 One of the Spotify beach parties
All of this "symbolism", as it were, underlines an inexorable trend that is reshaping the advertising industry. Although the sector as a whole has benefited from growing digital ads, the media agencies are starting to feel the pinch as the leading technology companies become ever more powerful players in the industry. As an executive of one of the major UK TV networks said: "Cannes is now just a technology show. The vibe is now, 'hey, come have a smoothie with us while we ruin your business'."
And yet even if this feels like a shift in the industry's balance of power, it is not all sweetness and cream for the techies. Because the tech companies also face threats to their own advertising models. Said a chap from Adweek magazine: "hey, listen, big customers are finally seeing through some of the smoke and mirrors and have become openly critical of the way these techies calculate the effectiveness of advertising on their platforms. Worse, they have come under attack for the spread of fake news and hate speech. And that last point. Hoo boy, a bloody conundrum. The ad money that comes in if placed in or near fake news and hate speech is tough to turn down".
That digital impact … boy it hurts
For the time being, though, it is the traditional media groups that are starting to feel the biggest impact from digital disruption. For the first time since the financial crash drove the advertising industry into recession in 2009, advertising's big four — WPP, Publicis, Omnicom and Interpublic Group — are stalling. A reporter from the Financial Times who was covering the event noted the following:
– Publicis, where Maurice Lévy has just been replaced by Arthur Sadoun after 30 years as chief executive, suffered the steepest fall, posting a 1.2 per cent decline in organic revenues around the world in the first three months of 2017. The situation in North America was more acute, with Publicis suffering a 5 per cent drop while WPP experienced a 0.2 per cent fall over the same period.
– The FT interviewed a media analyst with Pivotal Research who said organic growth for the Big Four noted above fell 0.3 per cent in North America — the first time this has happened outside a recession. Said the analyst: "that narrative won't go away anytime soon"
– In addition to "technological disruption", advertising firms are having to deal with (a) fierce cost-cutting by clients and (b) growing pressure from activist investors for short-term returns. It's a perfect storm.
Added to that … and an issue I cannot afford space to fully address in this post … is the lack of transparency around programmatic buying which so dominates this industry: the high-speed auctions for online ad slots. It has forced many companies to cut out the agencies completely and just deal directly with the tech platforms. The result has been a surge in advertising spending, with just two of those technology companies — Google and Facebook — already accounting for one-fifth of all global advertising spending, according to the Credit Suisse media analyst chap I met with.
Media metrics … and the dark side of hate speech
In light of wider global economic uncertainty and concerns over transparency, the two biggest advertising spenders — the consumer goods conglomerates Unilever and P&G, both of which had a huge presence at the event this year — are reviewing their spending and relationships with agencies. Unilever, which owns brands such as Ben & Jerry's ice cream and Dove soap, recently announced it is cutting half of the 3,000 ad agencies it uses around the world and will make a third fewer ads. At the same time P&G, owner of brands such as Gillette and Pampers, says it wants to cut its marketing bill by $2bn over the next five years, on top of $600m of savings in previous years.
NOTE TO E-DISCOVERY READERS: Unilever features in the third and last part of my series on technology and the legal industry vis-a-vis what they have done/are doing to bring e-discovery/analytics back in-house.
P&G has been at the forefront of the trend I noted above: the growing pressure on the tech platforms over how they measure advertising views on their platforms and the content they sometimes allow. Marc Pritchard, P&G's chief brand officer who is responsible for allocating it's annual ad disbursements, is quite famous for this landmark speech to advertising executives in Florida this past January when he described the media supply chain as "murky at best and fraudulent at worst". At Cannes this year he noted in one press interview that he had been encouraged by the way technology groups and agencies had responded but added more needed to be done: "I think it has shifted — a lot of the attention has been on digital media and about technology which is extremely exciting. But we have peeled back the cover and said we are not sure it's all it's cracked up to be." Most pundits say it was that January speech that forced tech companies to work overtime to rebuild trust and confidence among advertisers.
Facebook has suffered the most with a series of mega blunders on how it measures the effectiveness of ads, being called out for having overstated the number of times videos were viewed on its site.
Meanwhile in March, a number of high-profile brands and advertisers including Honda, Lloyds Bank and Tesco pulled their advertising from YouTube following an investigation by the Times newspaper that revealed how brands were appearing on extremist websites and other inappropriate online content. As we are well aware, the social media platforms have been under scrutiny over the way they monitor fake news and hate speech — especially in the wake of recent terror attacks in major European cities. Despite YouTube owner Google taking steps to deal with the backlash, including making it harder for terrorist and hate speech sites to monetise content from ads, many advertisers have stayed away.
And this year there was this underlying "murmur" that the influx of tech companies has taken the focus off creativity, and the Cannes "sprawl" has left less time to see the works on offer or even to do some types of work. One agency talent head said he once used Cannes to meet new directors, something he said has become rarer as many have stopped coming, citing the rising expense.
And over on Mt Olympus, the industry's traditional figureheads are still thriving
No, I was not invited. But according to a friend who attended, on the grounds of an elegant 18th-century château, high in the hills above the French Riviera, Ed Sheeran performed an exclusive hour-long gig to a group that included some of the most powerful figures in the media and advertising industry. On a terrace overlooking the stage, Lachlan Murdoch, co-chairman of News Corp and executive chair of 21st Century Fox, looked on. Nearby was Rebekah Brooks, the chief executive of News Corp's UK newspaper business. Amid the uncertainty and disruption facing the sector, organizers had warned those attending Cannes this year to tone down their celebrations. But, said my friend, "the glamorous evening put on by Rupert Murdoch's empire was intended to demonstrate that the industry's traditional figureheads are still thriving".
And according to Ad Age (I tend to hang out a lot with the folks from Ad Age and Adweek who seem to know everything, everybody), the Murdoch media businesses — News Corp and 21st Century Fox — still attract the second biggest chunk of spending from the world's biggest advertising group, WPP. But they are sandwiched between Google at number one and Facebook at number three, with the social network closing fast. Said my Adweek cohort: "these 'old media' companies are preparing to fight hard to make sure the party does not come to an end."
Storm clouds rising …
On Friday, the Lions announced a new advisory committee for key players to air their grievances and "create the right Cannes Lions experience for all participants." The first batch of bigwigs on the board were not agency heads from the likes of Publicis and WPP, but marketing execs from brands like Burger King, Unilever, and Procter & Gamble – that is, the people who really control the purse strings. Because while Chief Marketing Officers appreciate creativity, they are ultimately judged for advertising efficiency. This means more focus on data and results, and a more sober atmosphere in Cannes … despite all the rosé.
So, is Cannes, once a conference for young creatives, just for suits now?
Well, not exactly. I relied on my "creatives" … Catarina and Silvia, who are in their 20s … to search out the story.  As some agencies back away from awards — overall, entries were down 4% this year according to Ad Age — investing in them could serve as a powerful recruiting tool for rivals to attract up-and-coming talent. That's one reason Ogilvy sponsors the Young Lions competition and brought nearly 20 creatives to compete in the category, despite the cutbacks made by owner WPP. Said Ogilvy CEO John Seifert:
"If we could afford it, we would send everyone in the global network, particularly the youngest."
Best example? Elaine Li, a Hong Kong-based Ogilvy art director whose is only 26 and produced "super viral" campaigns for Nike and KFC which helped get her to Cannes. She said the exposure to her global competition was an inspiring eye-opener. And while many told us "if you don't win awards, people are less likely to want to work at your place" and "awards are the only way we have to keep score in the creative department", Li would disagree. She did not take home a Lion this year, but she — and her 182,000 Instagram followers — might disagree that it's the only way for a creative to keep score.
Because one thing we heard from the young creatives was "sense of balance". The good news for those fretting over how to marry creativity with efficiency is that some of today's most effective marketing messages do not rely on big budgets. The money shot by YouTube star Grace Helbig, a very sought-after brand spokesperson:
"Our audience doesn't pay us in finance—they pay us in attention". 
There's a reason social-media platforms — including YouTube — were so prominent along the promenade last week: that's where people increasingly spend their time. That is, in the 51 weeks per year when we're not pillaging the free food at Facebook Beach. The thing is, traditional tricks of the advertising trade don't translate on intimate, interactive social networks.
And that was also a big takeaway from the two e-discovery providers we met who have a huge Youtube and social media presence. No, "creative legal" is not the same as the "creative" on display last week in Cannes so I do not want to make too big a stretch. But the theme throughout last week was the need to foster unfiltered relationships with people who have short attention spans and finely tuned BS filters. In other words: authenticity, man. But how to bring that to advertising — an industry obsessed with control and, you know, selling stuff?
For one thing, it's okay to be raw and rough-edged. Consider campaigns that cleverly leveraged social and sharing platforms, like Burger King's TV ad designed to trigger voice-activated devices and Jet.com's low-budget search-engine hacks.
There's also the "Creative Effectiveness" award category, which accounts for "tangible business effects" in addition to creative execution. For the Art Institute of Chicago, the Grand Prix winner Leo Burnett built a real-life replica of a bedroom as painted by Van Gogh, and rented it out on Airbnb.
The project only cost $31,000 to run, but garnered media coverage worth $6 million and led to the best-attended exhibit in 15 years, with a huge spike in museum memberships and contributions.
Industry veteran David Droga captured the prevailing mood, accepting his Lion for lifetime achievement last week. "I used to try to sell things just on the creativity of something, and I'd be furious if they didn't see the genius I saw," he told the crowd in the Palais. Now, "if I was a client, I wouldn't want to buy something just because it's creative… They should buy something because it's right, and good for their business, and answering their needs."
And the growing conundrum: should advertising simply be "creative" to catch eye-balls,
or must it add "economic value?
Work is frequently awarded just because jurors find it interesting. One of the "suits" I spoke with wondered if the results would be different if the jurors were all CEOs and the success criteria for all campaigns was simply "did the campaign generate economic value for the respective brands"?
As I noted above, Cannes does have a Creative Effectiveness category where nearly half the judges are marketers. But even in this category, limited to short-listed or awarded work from the prior three years, results and effectiveness account for only half the score, with the rest split between the idea and strategy. In other categories, effectiveness counts for 20% to 30%. The number of Creative Effectiveness entries plunged to 109 last year from 160 the year before, bucking a trend of more entries in categories less scrutinized for their business results.
For instance, in 2016 the Creative Effectiveness Grand Prix Winner — "Monty's Christmas" from Adam & Eve/DDB for U.K. department store John Lewis, the touching tale of a boy and his penguin pal with surrounding in-store and charitable tie-ins — was responsible for $172 million of revenue growth and a fourfold spike in WWF penguin adoptions, according to its entry. Lately, revenue growth is highlighted in the entry forms.  If you do not remember that ad:
NOTE: the 2017 winner was the "Van Gough" ad I noted above.
Mark Tutssel, chief creative officer of Leo Burnett, said business success remains often slippery:
It's really hard to quantify what an ad has done for sales. For example, the "#OptOutside" program from Venables Bell & Partners won a Promo and Activation Grand Prix and the Titanium Grand Prix, the top honor at Cannes. The "anti-promotion" which closed stores on Black Friday so people could go outside, at least didn't seem to hurt sales, which rose 9.3% for the full year. Or look at "The Swedish Number" campaign from Ingo Stockholm for the Swedish Tourist Association. They set up a phone number for people from around the world to talk to random Swedes about Sweden. It won a Direct Grand Prix and Titanium Lion, but had questionable results. Overnight stays in Sweden did rise 3.5% last year, according to the European Union's Eurostat. But you know what? Other Nordic countries saw faster growth … without blow-out ads … including 11.4% next door in Norway. Sweden also had a lower proportion of overnight stays coming from abroad — the whole point of the ad campaign! — than other Nordic destinations.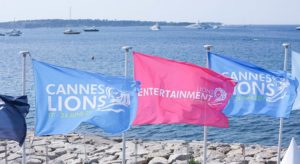 AND MY CONCLUSION? WELL, LET'S START WITH A GUY WHO HAS A VERY, VERY BIG CHECKBOOK
Despite grousing, largely from agencies, many marketers still like Cannes. I want to return to P&G Chief Brand Officer Marc Pritchard who I noted earlier in this post and who has a large checkbook … and who also has a significant influence in this industry due to thoughtful analysis and measured tone. My advertising client arranged a meeting for me … albeit 15 minutes in total … but I was also able to attend a few of Pritchard's events and press conferenecs.
As regards the "exodus" of agencies who allege they are not returning to Cannes, he has joked about the risk of getting on any boats leaving the dock, lest you are forced to buy something before coming back (higher pricing). But he says P&G's focus at these events are "team branding" and meeting people at Cannes to jointly see work and draw inspiration. It's simple, he said:
"P&G's ambition is to be the best at creativity, and Cannes is a great way for us to be inspired by the best creative work in the world and to raise the bar. We send about the same number of marketers as in years past to take the inspiration to be the best back to their teams. I want to learn from a lot of other smart people and hopefully bring back better strategies for me and my team to use. Yes, Cannes is sprawling but the size just means better personal planning. The way to win at Cannes is to plan early and pack it all in. My Cannes agenda is full from morning to night, and I use it as a chance to see people who are not based where I am and those I wouldn't usually get to meet. It's a very efficient way of seeing a lot of people and getting a lot done in one week."
He echoes much of what I heard from others: Cannes is "a learning expedition" and today you simply must learn/know how you can build a meaningful brand in a data-driven world.
And Pritchard and others believe that to the extent agencies pull back, others will quickly fill some of the void. Said one ad executive who has been going to the Festival for 10 years:
Look at how media and tech companies in recent years have staked out bigger and bigger chunks of the beach and taken more and more slips for yachts. Look, Facebook has held its own awards for client advertising in recent years. And this year they occupied most of the Majestic hotel [the most central hotel at the event] which used to be the turf of the Big 4.
The festival may simply be reflecting the changing landscape of marketing and its players. In 2003, P&G's first year there, Microsoft was a major Cannes sponsor. Later came Yahoo. Now Google, Facebook and Snapchat are the big players. Apple and Amazon have yet to plant their flags along the Croisette although as I noted above they send more and more attendees each year. And let's not forget the consultancies.  Deloitte this year sponsored the "Young" academies, including the Young Marketers and CMO academies. That's a first since usually one of the Big 4 has always sponsored them.
And as far as scaling back …. hmmmm. How does an industry known historically for excess and schmoozing practice something as minimalistic as "essentialism" at a week-long soiree like Cannes?
I have written about this trend before. This industry has moved … as have so many other types of industry … into a very different space. Look at IBM. It has gone in three years from simply sending a delegation, to running a small cabana on the beach behind the Palais, to this year operating a larger beach space that hosted panel discussions and "experiences" with Watson artificial intelligence: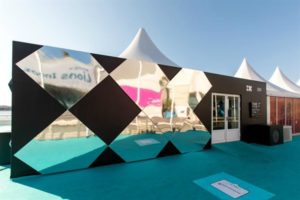 Jack Fermore of IBM told me "it's everything you can think about in a central event that brings it all together in an incredible location right in the middle of the year. It blows away anything that happens at CES or South by Southwest or anything else. At South by Southwest, you might see more startups. At CES, you might see more devices. But Cannes really gets to the heart of what we're trying to do as marketers and agencies and all the people in between. What used to be purely a creative festival is now one with all the aspects of marketing."
NOTE: in Part 2 I will talk more about IBM, and the other artificial intelligence stuff I saw. 
I WILL END WITH TWO OF MY FAVORITE "CONTENT" FROM THE FESTIVAL:
AN AD … AND A SET OF VIDEO GOOGLES
The ad is from the Spanish agency Shackleton, hired to promote the movie "Ghostbusters" in Spain, but focused on the Madrid market.  The agency installed loudspeakers and hidden cameras in the busiest subway station in Madrid, and then played sounds that accurately reproduced those of an arriving train — the train approaching and braking, the doors opening and closing, the train leaving the station. But the passengers couldn't see it: "Just like a ghost!" said the agency. The ad got huge social media replay across Madrid (and all across Spain and the rest of Europe) and Madrid movie theaters … as well as movie theaters across Europe … said after the ad went viral there was a huge spike in ticket sales for the movie:
With the exception of professional deep-sea divers and filmmakers, underwater scenery has largely remained unexplored territory on social media. But that could change with an unusual invention from Royal Caribbean, which plans to strap waterproof cameras on cruisegoers' faces to help them get enviable vacation pics. Last week, the company debuting a scuba mask with built-in Snapchat Spectacles, which could soon enable everyday divers to swim and shoot videos and photos of marine wildlife in places like Belize and Mexico. The "SeaSeekers" goggles were built by Sexton, an Oregon-based firm that specializes in custom underwater housing, in cooperation with Snapchat. The concept was developed by Boston ad agency MullenLowe.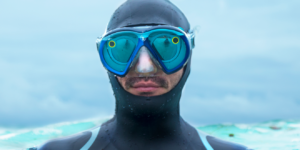 To promote its #SeekDeeper campaign, Royal Caribbean equipped three well-known divers with their own SeaSeekers, which they wore while exploring water that tourists often visit. The googles were also available to see at the Festival.
I have a bunch of background on this but rather than extend a very looooooooong post, here is one of the videos shot with the goggles:
COMING IN PART 2 …
It's hard to say the Cannes Lions International Festival of Creativity flat-out doesn't matter, especially as it keeps getting bigger, tech companies and consultancies keep raising their stakes — and clients keep flooding the Riviera.   Jason DeLand, a partner at Anomaly Partners, told me:
On its face, you can't argue that Cannes is irrelevant. The better question is, what role does it play credibly in an industry that is defined by much more than simply creative excellence. At its worst, it's a boondoggle. But somewhere in the middle it is a great place to connect and network and probably at the very top end it's a place to learn and get inspired. Why? Because it still keeps in focus the people factor – what vendors, attendees and sponsors expect and want".
NOTE: When Anomaly was founded 13 years ago, its partners set out to create, well, an anomaly: a shop that could recommend and implement media/advertising solutions using a variety of means, including traditional advertising, digital, social and new-product development. At the same time, Anomaly wanted to develop its own intellectual property. And clients are never billed based on time, but on performance. In 2016 they were #4 on Ad Age's "A List" of agencies. That year they every single one of their "new business" pitches.    
I thought about Jason's statement vis-a-vis LegalTech and ILTACON. As attendance and interest wanes at LegalTech (less so at ILTACON), in Part 2 I want to share some ideas for the next (and future) LegalTech events … what I learned from Cannes Lions as well as what I have learned at numerous other technology events.